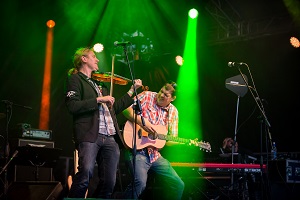 Catshill Social Club, Meadow Road, Catshill B61 0JJ
Four excellent acts to impress the Bromsgrove audience sufficiently to get a full booking at either The Club or The Festival. This time around we have.......
FOLKLAW - earthy lyrics and vocals accompanied by Celtic fiddle and distinctive vocal harmonies. Extremely popular local(ish) band
GREG ROWLANDS - singing many famous chorus songs which have been composed by respected folk singers right through the ages; his warm voice is welcoming and friendly. Visiting us from Llantrissant
THRUP'NNY BITS - unaccompanied harmony group singing traditional and contemporary folk songs, some music hall material, with some Early Music and humorous songs for good measure. Another localish band....this time from the Coventry area.
JOE BAYLISS - Staffordshire based singer/songwriter...whether it's slow ballads or uptempo rhythmic songs Joe's songs usually confessionary, or observational but always contemporary in lyrical content. Recommended to us by Paul Walker and Karen Pfeiffer

Music gets underway at around 8.00pm....members £4.00 under 25s £2.00 non-members (always more than welcome) £6.00

WHAT FUN WE SHALL HAVE!!